Annapurneshwari's Chutneys were famous all over Belgaum, but they wanted to increase their reach. A simple, quick, and effective digital presence helped them scale up and become one of the favorite Karnataka brands supplying nationally.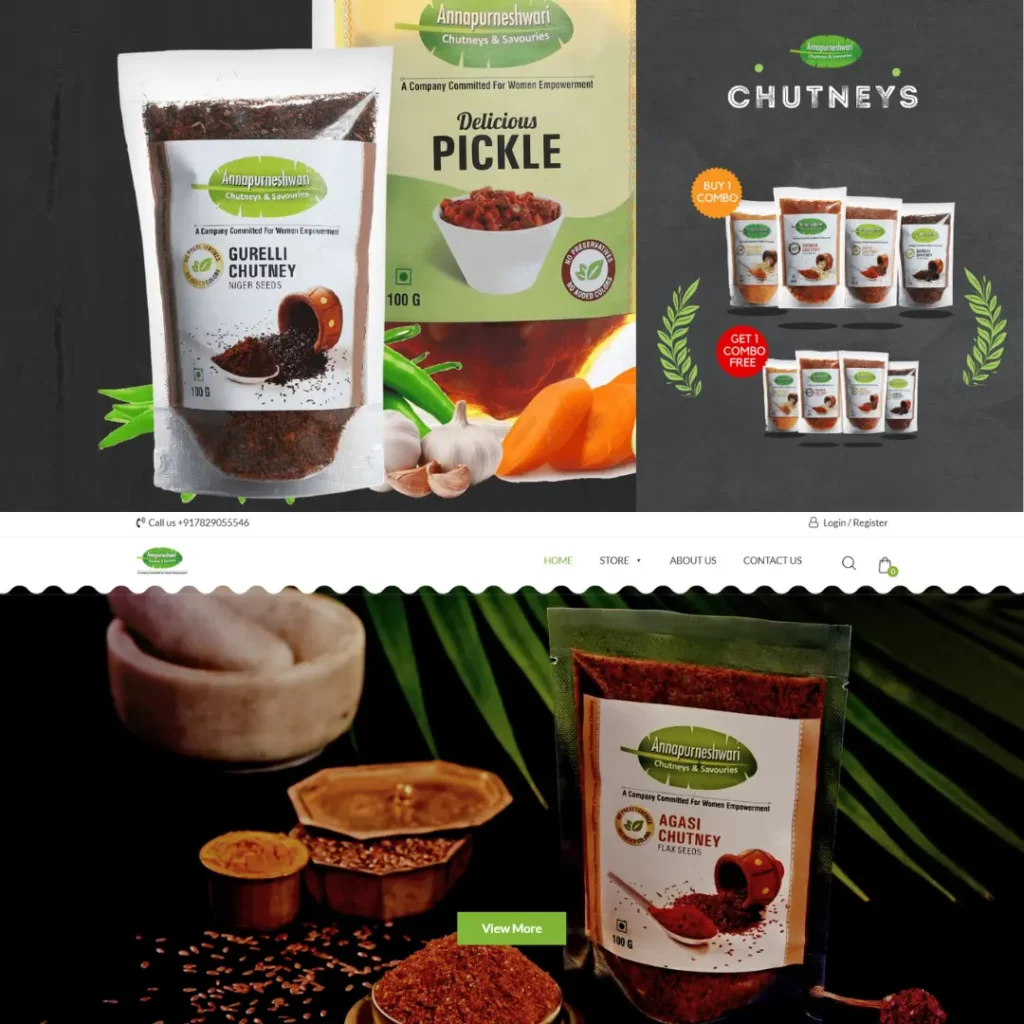 Annapurneshwari Thali restaurant started in 2014 serving authentic North Karnataka food with two outlets in Belgaum. Along with their snacks, their chutneys, their chutneys were a huge hit, and customers would often request to parcel extra packets of chutneys.
Following the roaring demand for the chutneys, they started to keep extra packets of chutneys at the billing counter for customers to pick up at check out. The popularity soared, the packets ran out before they could refill them, and the  chutneys became the staple in every house in Belgaum!
That's when Gowdesh Patil, founder, decided there was a huge parket for his chutneys outside of belgaum. The client's brief was simple – help us sell Annapurneswashri Chutneys all across India
We were tasked with building a comprehensive digital marketing strategy starting with designing an SEO optimized, mobile responsive website. We decided to go with a WordPress theme due to its ease of use and functionality, and speed to market. In parallel, we set up a boutique of digital assets necessary for any online ecommerce business. (Want to know the right platforms for your online business? Ask us.)
The main objective was setting up the online presence for the brand. Hence, we started focusing on building a website, creating social media profiles, and promoting sales through the  e-commerce site and through manual orders on social media.
Design and Development
Our web team created a fully responsive dynamic ecommerce website with high resolution product shots and images and a frictionless user journey. The website was designed and developed on WordPress platform.
Content Creation
Our content team wrote the copy of the home page, about us and product  pages. We kept our tone of voice accessible and engaging, steering away from any intimidating jargon and replacing it with personable, simple to people to understand content. 
Keyword Research
We used a combination of Google trends, SEMrush, Keyword Planner and Keywords Everywhere to identify the most relevant search opportunities that stood out in terms of search volume.
Optimization of Meta tags
We executed meta tags for all the pages of the website with the relevant keywords to help rank the web pages on search engine.
We also created social media profiles for the brand and optimized the basic requirements. We installed Google analytics, Google search console, and Facebook pixel codes to the website and set it up.
Paid Strategy
We built a strategy for paid marketing campaigns with target audiences, locations, demographics, budgeting, creatives format/types in order to get sales for the brand.